Controversial Nigerian crossdresser Bobrisky has surprised his loyal fans by splashing millions of naira on gifting him a Mercedes-Benz.
Fans identified as Kunlex had gotten a tattoo of Bob, but they did not acknowledge him.
Recall that former fans of the male Barbie had called him out with utmost disrespect as they claimed he kept none of his promises towards them. This triggered Bob to think of Kunlex.
According to the male barbie, he had expected his loyal fan to call him out for not acknowledging him like the Ivorian lady, unfortunately; he was disappointed as Kunlex continue to give him his support.
Here's what he wrote;
"I lost many words today, but you know what God will continue to bless you for me . You surprise me today. Out of everybody that drew my face or name on their body, dis was d only guy that drew his tattoo from his heart not for MONEY, CLOUT, or FAME.
"Go to his page he is a pure hustler Till today I haven't given him anything, seen him in person. I was expecting him to say a lot about me or snitch. @kunlex_botanical you are a great guy. Everybody need to learn from you. Your patience is priceless. Definitely if anyone come to me with a bad mind of scamming me or coming to clout chase with my name what do u except you will see from d person".
To reward his loyalty the self-styled billionaire girlfriend gifted Kunlex a brand new Mercedes Benz and emphasized that he earned through loyalty".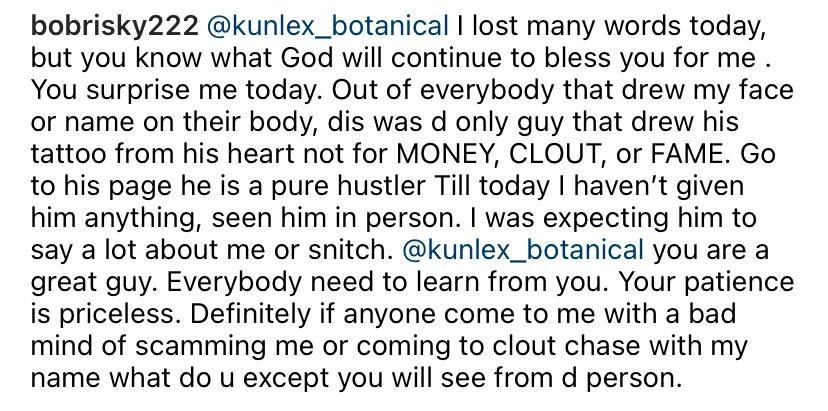 Sharing a video of the new whip, Bobrisky wrote,
"Awwww @kunlex_botanical dis is wat your loyalty got you. Love you, We don't do audio, Money they ground".