Former Big Brother Naija star, Ozo has caused an uproar in social media as fans posing as fashion police rip him apart over his feminine look in a lilac-colored blazer.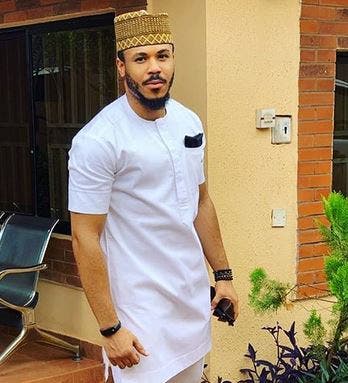 The viral video making rounds on social media captured the reality star in a lilac-colored blazer which revealed a portion of his chest. His look was also complemented with a black hat.
Although he looks simple and very well reserved, this hasn't spared him from being lynched by Instagram fashion police who describe him as Nkechi in the choir.
Read more comments below:
florishohabuike Why ozo come dress like sister nkechi from the choir
mollydan_Ozo darling, where's ur shirt?
van_el _Go and follow JayZ and see when he wore this color it was mad and pls y'all mad fellow should remember he's into fashion and modeling not to pls your bug size coat fathers
hidinmauzoma said: "This guy and his outfits sometimes."
njbabytc said: "Ozo looking so rich here."
bellajay96 said: "Ozo i luv u
buh forgive me for laffing."
pearlicious said: "Sister Chinyere is looking for her coat right now."
Watch the video below: