Presently, controversial Nollywood actress Nkechi Blessing and Bobrisky are still fighting dirty and social media is buzzing with several reactions.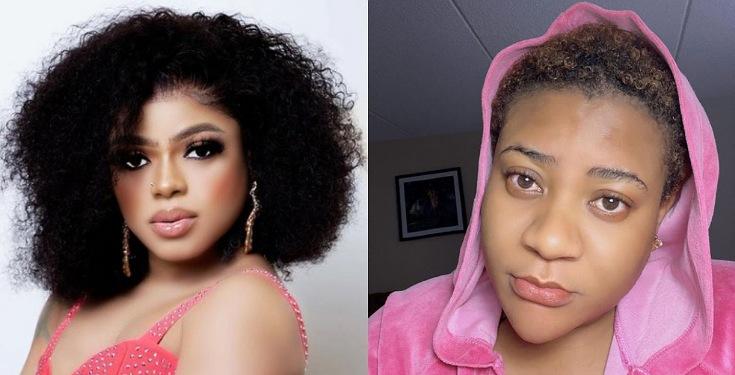 The battle follows a social media trend in the tattoo saga, where fans draw their favorite celebrity on their body.
It's not a big deal for Bobrisky as he continued to give his fans enormous cash with his tattoo on their body.
Nevertheless, many individuals claimed it was a new pattern of extorting cash from celebrities.
Nkechi blessing Bobrisky fightThings turned otherwise after Nollywood actress Nkechi Blessing publicly slammed their fans for tattooing their name on their body, and former Big Brother Naija homemate Ka3na.
Nkechi Blessing later apologized for her tattoo to the lady, but a fan alleged that the actress was afraid of Bobrisky being dragged publicly.
As she slammed the fan, this infuriated the actress, and Bobrisky, the crossdresser, could not overlook the comment as he was looking for a chance to get at the actress.
On social media, Nkechi Blessing and Bobrisky called each other out as they opened up a different can of worms, leaving many Nigerians with multiple responses.
damilolaa____: Battle of the shameless
loluwa.xx: Nkechi Dey drag bob wey no get shame she Dey whine me ?????
tycoon_cephas: Na God they create all this people or angel they use God working tools play
kennedyexcel: Ladies step aside this's man to man fight, One person carry Okere Juju in between his 2 legs, While the other person carry kpekus in between his legs, Old Cargo's
…
omobolanle_pepper: Nkechi is still leading the match biko
…
theseunlah: Nkechi won this round! Everything Bob said we've heard before, we need new tea
Nkechi give us the man name abeg
I'm here for the violence
yes_im_bisola: The battle of the shameless, senseless na small dey pain person wey they collect shim man friend